---
also in  print (& in paperbound edition):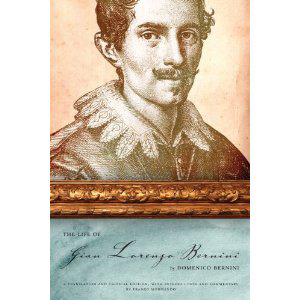 ---
THE LIFE OF GIAN LORENZO BERNINI
A Translation and Critical Edition,
with Introduction and Commentary
by Franco Mormando
Penn State University Press, 2011.
CONTENTS
Acknowledgments
A Note on the Commentary, Sources, Translations, Abbreviations, and Currency
Introduction: The Anatomy of Baroque Biography: Domenico Bernini's Life of Gian Lorenzo Bernini
Domenico Bernini, The Life of Gian Lorenzo Bernini
Appendix 1: Pietro Filippo Bernini (attrib.), The Vita Brevis of Gian Lorenzo Bernini
Appendix 2: Jean Donneau de Visé, "Éloge du Cavalier Bernin," Le Mercure Galant,Paris, January 1681
 Notes
Bibliography
Index
---
 "This edition is in, effect, a one-volume encyclopedia on the artist's life and work. As such, it stands alone within the immense bibliography of Bernini scholarship." (from dustjacket)
---
click here for a videotaped interview with the author discussing the origins, nature, and contents of this edition.
---
For updates to FM's edition of Domenico's biography, see the "Bernini Updates" page.
A digital copy of the original 1713 edition of Domenico's biography is available through Google Books.
---
reviewed in CHOICE (Dec. 2012):
"In 1713 Domenico Bernini (1657-1723) published a biography of his famous father, the Baroque artist Gian Lorenzo Bernini (1598-1680). It is colorful and informative, if overtly celebratory, but has been almost completely overshadowed by the earlier biography of the artist written by Filippo Baldunucci, published in 1682, and which Domenico probably helped inform. Finally, almost 300 years after its first appearance, Mormando (Boston College) has published the first unabridged translation of Domenico Bernini's text, with extensive annotations and commentary. It is a welcome event.
Domenico Bernini's biography previously has been available only in reprints of the original, and never with such a scholarly apparatus. For the first time students will have recourse to notes and reflection on virtually every significant aspect covered by Domenico, and many that are not. Mormando provides an ample introduction followed by the translated text, along with appendixes and copious notes. This book immediately becomes an indispensable resource for Bernini studies. Summing Up: Essential. All academic libraries; lower-level undergraduates through researchers/faculty, and general readers."
---
---
---
The Life of Gian Lorenzo Bernini by Domenico Bernini is Mormando's translation—the first-ever into English—of the fulsome biography Bernini's own son published of his father in 1713. This new critical edition, the product of 10 years of research, effectively puts the lie to much of Domenico's hyperbolic tale of genius, virtue and piety. Crucially, Mormando, a professor of Italian at Boston College, also puts that earlier work into context and with impressive finesse explains the literary conventions and family circumstances underlying Domenico's filial tribute. Equipped with 183 pages of footnotes—36 pages more than Domenico's full text—and an extensive bibliography of recent scholarship, this book will be of special interest to Bernini scholars. Yet serious art aficionados will also find it accessible, thanks less to Domenico's florid prose (Mormando calls it "obfuscatingly ornate and dense") than to Mormando's helpful introductory essays and vivid commentary.
–Gregory Waldrop,  America: The National Catholic Weekly (v. 206, issue 15, p. 25)
---
********************************************************************************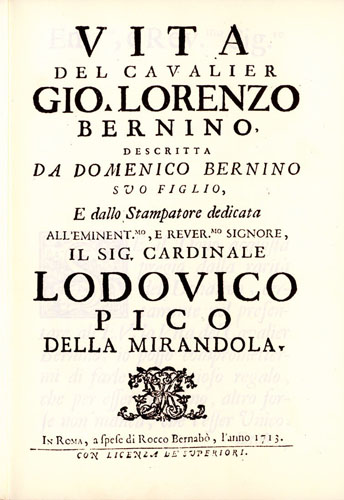 ********************************************************************************
DOMENICO BERNINI (1657-1724) was the youngest son of artist, Gian Lorenzo Bernini (1598-1680). After a brief career as a Jesuit novice and as a cleric in minor orders ("un abate"), Domenico made a name for himself as a writer of ecclesiastical history.
Though his Life of Gian Lorenzo Bernini was published only in 1713, Domenico wrote the first draft of this full-length biography of his father in the late 1670s (see the publisher's "Preface to the Reader"), while his father was still alive and with presumably some input from his father, if only in the indirect form of anecdotes and tales told by Bernini to his children at the dinner table and remembered by the author while compiling his biography.
The most compelling evidence leads scholars now to conclude that Domenico's lost first-draft, in fact, supplied the substance of the biography of Bernini published in 1682 by Florentine art critic Filippo Baldinucci, for there is no other persuasive explanation for the substantial amount of verbatim repetition between the two works. Though Baldinucci's work for many years enjoyed pride of place among the scant primary sources for the life and works of Bernini, it is Domenico's biography that represents the most important biographical source.
 Apart from a very brief sketch of the artist's life penned by his eldest son, Monsignor Pietro Filippo Bernini, Domenico's Life of Gian Lorenzo Bernini represents the only primary source to derive from the artist's family itself.
Mormando's 2011 English translation comes with 900+ footnotes to complete, correct and explicate Domenico's statements, as well as a lengthy introduction and a near-exhaustive bibliography.
It also contains annotated English translations of two other important early sources, the aforementioned biographical sketch by Bernini's eldest son, Pietro Filippo Bernini (the "Vita Brevis" as named by Mormando) and the 1681 Bernini obituary published in the periodical of the court of King Louis XIV of France, the Mercure Galant, representing the first post-mortem tribute to the deceased artist.
********************************************************************************
********************************************************************************
OTHER REVIEWS AND PRAISE
"This is the first English translation of Domenico Bernini's important biography of his father and a splendid addition to the literature on the preeminent genius of the Roman Baroque. Not only does Mormando's elegant translation make this primary source available to those who do not read Italian, but his accompanying commentary is illuminating and exhaustive, drawing as it does on nearly six hundred secondary sources. This is the book every student and admirer of Bernini has been waiting for."
—John Varriano, Mount Holyoke College.
---
"With this fine volume, all students and scholars of Bernini finally have an essential new tool for seventeenth-century studies—the English translation of the biography of Bernini, which was published in 1713 by his son Domenico. This biography, which emends the better-known vita by Baldinucci, is the more trustworthy of the two with regard to facts and certainly the more informative. No library, no scholar, and no undergraduate in Baroque art can be without Franco Mormando's translation. His introduction and notes are packed with new information and original discoveries. Three loud cheers for Penn State University Press for bringing out a book previously available only in a hard-to-obtain facsimile of the original Italian text."
—Tod Marder, Rutgers University.
---
"Applying his meticulous analysis of Domenico's Life of Gianlorenzo Bernini and drawing on the state of the art in scholarship on Bernini and artistic biography, Franco Mormando not only provides us with an accurate yet highly readable translation of Bernini's biography, but also substantially contributes to our understanding of the text and the myriad issues and themes involved in it. This book is an indispensable working instrument for all those working on Bernini, artistic biography, Baroque Rome, or early modern art theory."
—Maarten Delbeke, Ghent University and Leiden University.
---
"Domenico Bernini's biography of his father, Gian Lorenzo, is a remarkably important textual document. Thanks to Franco Mormando, we now have the definitive English translation we have long been waiting for—a book that will certainly be a welcome addition to the library of any student or scholar of early modern Italian art. Mormando's volume presents an elegant, accurate, and highly readable translation of the text—one that captures the essence and spirit of the original Italian, with respect to the nuances and subtlety of language and terminology. The volume also includes a learned and exhaustive introduction, which frames the biography both historically and critically, and an equally learned and extraordinarily helpful critical commentary, which illuminates the text in myriad ways."
—Steven F. Ostrow, University of Minnesota.
---
"The Life of Gian Lorenzo Bernini translates three invaluable biographical texts on Bernini, complementing them with insightful and extensive explanatory notes. . . . [This book is an] essential [contribution] to Bernini studies, and because of [it], we know Bernini better."
—Matthew Knox Averett, Renaissance Quarterly.
---
 "Franco Mormando's translation of Bernini's life by his son Domenico is the first in English of Domenico's text which, until recent years, had been considered biased and neither as credible nor as useful to scholars as Baldinucci's 1682 Life of Bernini or Chantelou's observations in his Journal. However Mormando makes a convincing case for Domenico's biography to be taken much more seriously, seeking to prove that a first version may have been written by him many years earlier than the publication date of 1713, so predating Baldinucci's biography, until now thought to be the first."
—Clare Ford-Wille, The Art Newspaper
---
---