---
"Like [Bernini's] finely crafted art work, Franco Mormando's biography of Bernini is outstanding."
–Jonathan Farrell, DigitalJournal
---
"Franco Mormando . . . has written a lucid and engaging biography of this major force in 17th-century Rome, at the same time providing excellent insights into the city Bernini lived in and shaped."
–Sheila ffolliot (Professor Emerita of Art, George Mason University), The Washington Independent Review of Books
---
Bernini: His Life and His Rome "is a biography for the general reader…. Nonetheless, the biography is underpinned by Mormando's immense and serious research and is packed with information …"
– Clare Ford-Wille, The Art Newspaper (London), Number 240, November 2012, p. 76.
---
"…as compelling and as readable as the best fiction…"
---
---
---
---
Publisher's Weekly (Oct. 3, 2011):
"In one of the few biographies of Baroque sculptor Gian Lorenzo Bernini since his death in 1680, Boston College Italian professor Mormando constructs a comprehensive, extraordinarily vivid portrait of the sculptor known as 'the Michelangelo of his age.' A child prodigy compulsive about creative achievement, Bernini was, in Mormando's estimation, a superbly technically skilled sculptor who possessed rare psychological insight into the human and mythological subjects he portrayed.
Mormando traces Bernini's work for his first chief patron, Pope Urban VIII, detailing Bernini's power struggles with rival Borromini; the critical receptions of and controversies surrounding major commissions such as the baldacchino at St. Peter's and sexually charged Saint Teresa in Ecstasy; his monumental work for Pope Alexander VII; and the tumultuous period in the court of Louis XIV. Swiftly paced and buoyantly written, this richly sourced work places Bernini within the dynamic, criminal, superstitious, and sensual city that was baroque Rome; Mormando examines Bernini's work and artistic place within the baroque in far less depth.
Of great interest to general readers seeking a well-researched, highly readable portrait of the sculptor and those interested in the cultural history of baroque Rome. 43 b&w illus."
---
---
---
---
Booklist (Oct. 15, 2011, "starred review"*):
"Though as preeminent in his time as Leonardo and Michelangelo in theirs, Gian Lorenzo Bernini is hardly the household word each of them is, at least in Anglophone countries. If Mormando's biography—the first written in English—of the towering Roman sculptor, architect, painter, playwright, and miscellaneous artist (his portfolio included theatrical-production designs, temporary structures for public celebrations, even floral displays) probably won't greatly affect that situation, that will be no fault of Mormando's.
He has gone back to the earliest lives of the artists, and, because those tend toward hagiography, the scandalmongering popular press and the gossipy correspondence of foreign diplomats in Bernini's Rome to fill out the portrait of a narcissistic, scheming, fiery dynamo of a man, capable of producing a torrent of art while managing an enormous staff of assistants, and, as paterfamilias after his sculptor father's death, a large family of origin and eventually, of procreation (he didn't marry until 50, which doesn't mean he was chaste beforehand) over the course of more than 60 years.
Moreover, by adopting the manner of a lecturer—teasingly mentioning things to come, employing the first-person plural as a teacher, roping students into his intellectual questing, throwing in some slang now and then, and without neglecting scholarship (this is a history of papal Rome as much as a biography)—Mormando gives us a succulent reading experience. Quanto è dolce."
---
---
---
---
Library Journal (Nov. 1, 2011):
"Mormando (Italian, Boston Coll.) provides enough salacious details of the scandal-ridden life of baroque artist Gian Lorenzo Bernini to keep readers turning pages in this engaging, well-researched biography. He worked for a parade of popes in Rome and received commissions from Rome's leading families: the Barberini, Pamphilj, Chigi, and Borghese. His outsized ego, which prompted his mother to write a letter to the pope pleading for the pontiff to reign her son in, plagued him throughout his life: not only maiming a mistress who had been unfaithful to him, but also making impolitic remarks about Louis XIV and Paris while living as the king's guest in France.
Still, Bernini managed to create some of the world's most enduring artworks, including his statues St. Teresa in Ecstasy, David, Apollo and Daphne, and the Piazza Navona's Fountain of the Four Rivers, as well as the baldacchino and interior design of St. Peter's and the colonnade of its majestic piazza, among his many monumental achievements. VERDICT: Mormando's extensive research and documentation not only will satisfy scholars and students of art history, especially baroque aficionados, but this biography will also appeal to general readers."—Ellen Bates, New York (Arts & Humanities Reviews).
---
---
---
---
Choice: Current Reviews for Academic Libraries: 
"Any new book on Gian Lorenzo Bernini (1598-1680), whose prolific artistic genius transformed Rome in the 17th century, is bound to attract the immediate attention of scholars, students, and lovers of the Baroque. This volume by Mormando (Italian, Boston College) approaches Bernini's life in an unprecedented and startling new way. In the author's words, "This book makes the pursuit of 'Bernini himself,' the uncensored, flesh-and-blood human being, one of its primary objectives, as it also narrates the milestones of his public career and family history."
Using the two well-known biographies plus a myriad of other primary sources (private letters, diaries, news bulletins, diplomatic dispatches), Mormando builds a revealing picture of Bernini within the context of his remarkable achievements and, of paramount importance, that of 17th-century Rome. Chapters include "The Neapolitan Meteor," "Impresario Supreme," "Bernini's Agony and Ecstasy," "Bernini and Alexander," "A Roman Artist, in King Louis's Court," and "My Star Will Lose Its Ascendancy," followed by exhaustive notes and bibliography, and a meticulously detailed index. This is the first full-scale biography of Bernini in English; it reveals the many passions, while excluding none of the ambitions, tempers, and weaknesses, of an extraordinary creative genius. Summing Up: Essential. Upper-level undergraduates and above." (May 2012 issue). 
---
---
---
---
"Most books about Bernini concentrate on his art and pay little attention to the man behind those works, failing to question the pious platitudes, omissions and distortions offered by the artist's earliest biographer: his son Domenico. Not this book! Bernini the man-in-full emerges from Mormando's pages as in no other biography of the artist.
Although the author is a scholar who displays an impressive command of original sources, there's not a pedantic sentence to be found. This is a highly readable book for anyone interested in Bernini and, in a wider sense, in Baroque Rome.
As the title promises, the author also presents an unforgettable portrait of that seething city, contrasting its glorious monuments, haughty aristocrats, and art-loving, corrupt cardinals with the squalor and desperate poverty of the majority of its inhabitants….
No other book … gives such a vivid, many-faceted portrait of the artist himself, a man whose relentless, conniving ambition, frightening temper, and at times out-of-control sexual impulses co-existed with deep devotion to his family and, above all, with incomparable genius as an artist."
 — review by Judith Anne Testa (Northern Illinois University, School of Art, professor of art history, retired), in Fra Noi  magazine (www.franoi.com), July 2013.
---
---
---
---
"As good as those books [by Ross King and Jake Morrissey] are, however, Mormando's is better. Repackaging his scholarly material from the critical edition and adopting a more conversational tone, Mormando unveils an intelligent, if also supremely skeptical portrait of Bernini and his beloved Rome. Along with ravishing works of art, whores, catamites and clerical cupidity abound. Even the author compares all the book's scandal, intrigue and 'interpersonal drama' to a television soap opera. Cutting through the exaggeration of 300-year old official biographies, Mormando wants to reveal 'Bernini himself, the uncensored, flesh-and-blood human being.'
— Gregory Waldrop, America: The National Catholic Weekly, vol. 206, issue 15, May 7, 2012, pp. 25-26.
---
---
"Mormando is not an art historian, but rather a scholar of Baroque Rome and Professor of Italian at Boston College; and he has done the work of an historian remarkably well. With thorough attention to detail and accuracy, he was apt, as an Italianist, to have worked directly from the seventeenth-century primary sources available to him rather than to have reproduced the errors and oversights repeated over several centuries in secondary sources that draw primarily, if not exclusively, on other secondary sources. This, the result of excellent scholarship carried out over ten years, is a carefully researched and highly engaging biography." — Thomas Patrick Wisniewski, Biography 35.3 (Summer 2012): 532.
---
---
---
---
"Gian Lorenzo Bernini dominated the artistic life of Papal Rome for much of the seventeenth century. There has long been a need for a good, general overview of the artist and the manner in which he changed the appearance of the Eternal City. We now have one in Franco Mormando's Bernini: His Life and Work, published by The University of Chicago Press. This is just the book to prepare any likely visitors who might not find Bernini's combination of artistic ingenuity in the service of religious enthusiasm to their taste. It sets the scene with great gusto, giving us just the right combination of background history with piquant analysis of the many sculptures, buildings and other projects which he created for his mostly Papal and Royal patrons. It would also serve as a good introduction to Rome in advance of joining our visit, 'Rome & The Grand Tour.'" —"New Perspectives for the Discerning," Ciceroni Tours website, UK, 29 Dec. 2011.
---
---
---
---
"Franco Mormando's Bernini: His Life and His Rome is a wonderful biography on an artist who has left an indelible mark on Rome with his theatrical sculptures, playful fountains and building works. . . . [T]his book relates not only the life of Bernini from his auspicious beginnings to the end of his career, but it also attempts — might I say, most successfully — to recreate the "atmosphere" of Rome in Bernini's time and my favorite aspect of this work. Mormando does a wonderful job of creating a psychological profile of the artist, doing his best to get into the mind of his subject and helps us to understand what he might be thinking and feeling and why Bernini does what he does.  Mormando does not force 21st century values onto his subject and paints a picture of the artist as he should be seen: a product of his time. This task is most certainly not an easy task, but, the author draws on primary source material in order to complete his profile of Bernini. Primarysource material from Bernini's own son, Domenico, and observations from those of other eyewitnesses work to create a balanced portrait of the artist, his works, his temperament, and his dealings with others.
Mormando is always careful and cautions the reader regularly that we must judge carefully Domenico's accounts of many exploits recounted in his biography.  Using other eyewitness accounts certain helps to balance out some of Domenico's less believable observations.  In doing so, we are able to judge Bernini through the eyes of several observers. More importantly, Mormando recreates Baroque Rome, providing the reader with a realistic account of Rome by discussing not only the art and patrons of Bernini but the politics and problems of the time as well as the circumstances involving Bernini's works and commissions.  This aspect of the book I enjoyed the most, and I also appreciated the author's dedication in keeping Rome and its cultural and political climate always 'on stage' with the artist…." –Review (by "Keith") on the website, "Knowing Rome: All Things Roman," April 6, 2012.
---
---
---
---
"If there's one artist whose work needs to be understood in the context of real life (and realpolitik), it's Bernini. Mormando, a historian of seventeenth-century Rome, ably corrects and contextualizes the early biographies and is careful not to fall prey to their promotional agendas." –Review by Alexander Nagel, London Review of Books, v. 35, n. 1, January 2013, pp. 29-30.
---
---
---
---
 In Defense of the Artist Biography…
"It is surprising to discover that the traditional tribute paid to artists of distinction — the biography — has fallen into such disrepair. A small number of personalities with the mirada fuerte — Caravaggio, Van Gogh, Picasso — attract repeated attention. But key figures for whom a rich documentation exists, have been neglected. Franco Mormando was surely right to claim that his recent book Bernini: His life and his Rome (2011) was the first biography of his subject to appear in English and "one of the very few to appear in any language since [the sculptor's] death in 1680". And that was not for lack of information, or indeed for lack of scholarly interest in the subject. Distinguished art historians had been at work on Bernini. But that work seems not to have been conceived as including the writing of an adequate and comprehensive Life….
The suspicion is that art historians look down their noses at biographers as being not at all the genuine article. But a Life, properly told, should have a beautiful universality of address. Who was this [artist] and what did he do with his life? Such questions are simple, but they are not naive."
— James Fenton, TLS (Times Literary Supplement), April 12, 2013, p. 3, "Hiding in plain sight."
---
---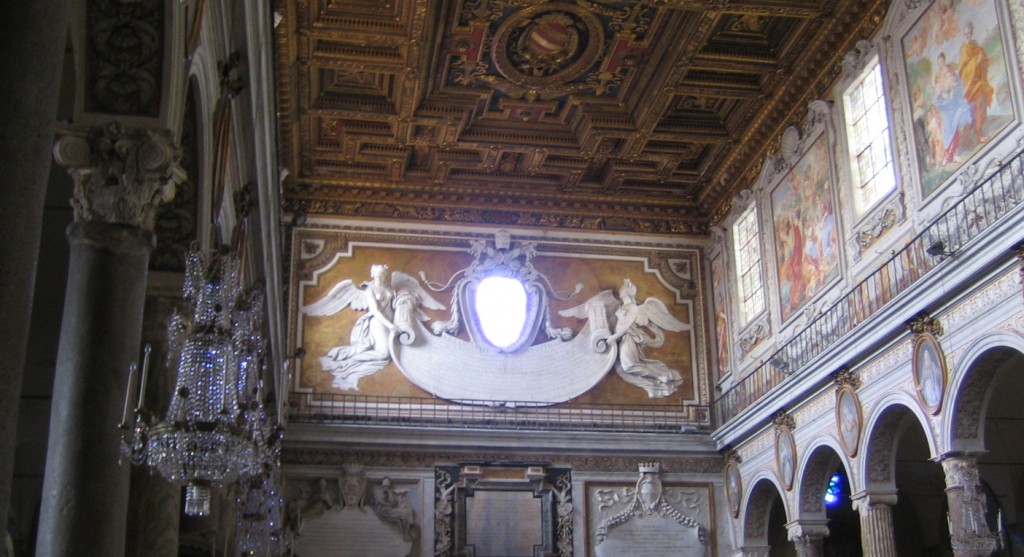 (bernini: scroll in honor of Pope Urban VIII, counterfacade, Santa Maria in Aracoeli; photo fm)
---
---
The essential Bernini bibliography, according to one reviewer:
 "Bernini has long been celebrated as the sculptor par excellence of seventeenth-century Europe, and rightfully so. Bernini scholarship is too vast to rehearse in its entirety. Useful, however, is an understanding of where McPhee's text fits into this ever-burgeoning area of scholarship. There are, of course, the pioneering studies: Rudolf Wittkower's Gian Lorenzo Bernini: The Sculptor of the Roman Baroque (London: Phaidon Press, 1955; enlarged in 1966 and revised in 1981), Howard Hibbard's Bernini (New York: PenguinBooks, 1965), and Irving Lavin's Bernini and the Unity of the Visual Arts (London: Oxford University Press, 1980). Recent studies, including Tod Marder's Bernini and the Art of Architecture (New York: Abbeville Press, 1998), McPhee's own Bernini and the Bell Towers: Architecture and Politics at the Vatican (New Haven: Yale University Press, 2002), Tomaso Montanari's edited volume Bernini pittore (Milan: Silvana, 2007), and Franco Mormando's Bernini: His Life and His Rome (Chicago: University of Chicago Press, 2011) have shed further light on Bernini's architecture and biography, as well as his practice as a painter."
                   –Eve Straussman-Pflanzer (Patrick G. and Shirley W. Ryan Associate Curator of European Painting and Sculpture before 1750, Art Institute of Chicago), review of Sarah McPhee's Bernini's Beloved: A Portrait of Costanza Piccolomini, CAA.REVIEWS (online), March 7, 2013.
---
---